Counterfeiting is a quite common problem that is arising nowadays. You can see counterfeiting is involved in everything. if we talk about the medical industry then counterfeiting in this industry is at great extent. In this particular blog, we will discuss the genuineness and how to distinguish between an Original and a Fake Littmann. Sometimes for a customer, it is actually very difficult to distinguish between an original Littmann stethoscope and a fake Littmann stethoscope. As the product is very popular worldwide and it is always considered as the first choice for doctors because of its popularity there are high chances of counterfeiting involved.
Distinguish between an Original and a Fake Littmann
Price: Price is one of the most important Component Of a stethoscope.
Dealer: when It comes to buying, Then always buy from an Authorized Dealer.
Ear Tips: Everyone talks about the ear tips of a Littmann Stethoscope as they are super comfortable.
Tubing- The tube of a Littmann Stethoscope is very attractive. The glossy look looks very amazing.
Chest Piece- In every Littmann stethoscope, both the chest piece are present adult and pediatric.
Performance- As Littmann comes with multiple features then as far as the performance is concerned then it is outstanding.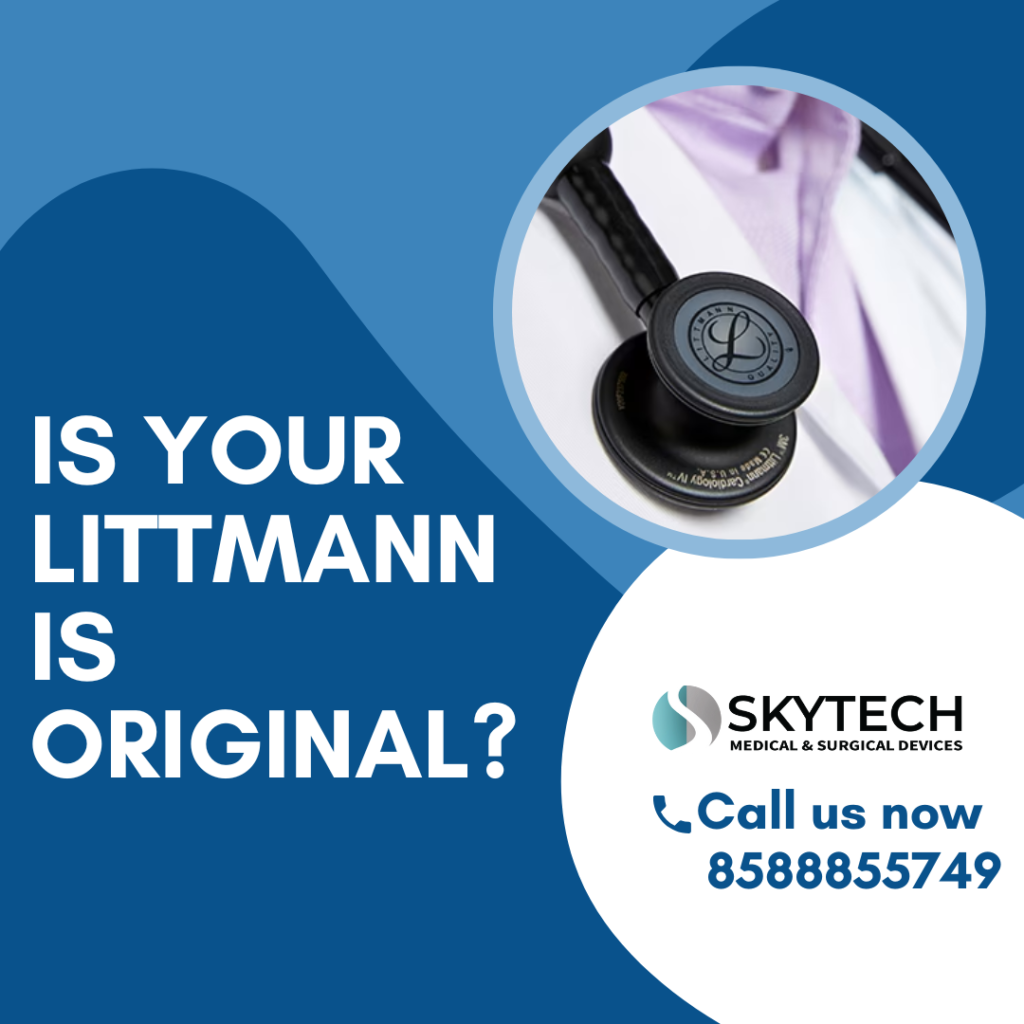 There are multiple things that help in determining whether a stethoscope is genuine or not. These are as follows:
Price- It is one of the most important components. As Littmann Stethoscope is a bit expensive in comparison to other stethoscopes. If you are seeing a big discount on a stethoscope then there are high chances that it is fake. In terms of price, you can easily check the price on their official website. There are various models available online that you can check before making any sort of purchase. The ranges that are in great trend are littmann classic III and Cardiology IV.
Dealer- In terms of dealership, you need to check the authenticity and the best way to check the authenticity is to go on the Littmann website itself and click on where to buy option so that you can easily get an idea of which dealer is authorized. If you buy a Littmann Stethoscope from an authorized dealer then you will get a warranty of almost 5 years and on some models, you will get a warranty of 7 years.
Original Box- The originality of the Littmann stethoscope also lies in its box. You will definitely like the originality of the box as it looks very attractive. Even the color combination is very amazing as it includes the finest colors like a great combination of purple and black.
Ear tips- The compelling ear tips and the comfort is an important aspects of a Littmann stethoscope. These ear tips will make you feel less tired and you can wear them all day. If you feel that the ear tip is uncomfortable or fragile then definitely it is a copy.
Tubing- When it comes to tubing then the tubing quality is very superior and flexible. The shiny look of the tube will attract you. Most importantly the tube of an original Littmann is prone to breakage or any sort of damage. On the other hand, a fake stethoscope has shiny tubes but there are high chances of breakage involved.
Chest Piece- In an original Littmann stethoscope, You will see a brand logo in the middle of the chest piece and the symbol of L has been written flawlessly. In fake stethoscopes, you will see a logo but that is not well-designed. You will also see a sign of poor finishing in the Littmann.
Performance- Last but not least is performance. In an original stethoscope, you will see excellent acoustics and also multiple features that involve active noise cancellation.
Before buying anything you need to check whether you are purchasing it from an authorized distributor or not. We at Skytech Medical and Surgical Devices always take pride in mentioning that we have earned a lot of trust from our customers. Even we have served millions of customers all over India.