Are you also confused about buying a new Stethoscope?
This certainly could be a very tedious task. However, after reading this blog, I assure you that all your queries related to a stethoscope will be solved automatically and you will easily be able to differentiate between the model suitable to your need.
Let's dive deeper and discuss the 4 Best Littmann Stethoscopes in 2023 There is no denying the fact that Littmann is one of the most prominent brands in the market. Several hundred doctors and healthcare professionals have trusted Littmann stethoscopes over the generations due to it's uncompromised quality and reliability and they purchase it without raising questions about it. However, they do check out various color combinations and models as per their choice and need. The 2 parameters that are assessed before buying a good stethoscope are durability and comfort of use.
The current models offered by 3M are considered as some of the best Stethoscopes that Littmann could add to their array of scopes which you too could consider before selecting one for yourself: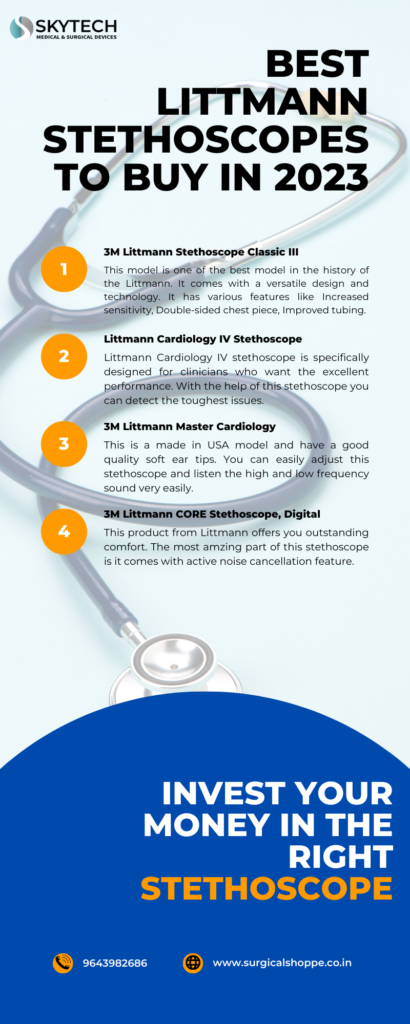 3M Littmann Stethoscope Classic III, is definitely one of the trendiest and most demanded models in Littmann's history. The Classic III is good for use by nurses, general physicians, gynecologists, interns, students….., and just anyone and everyone who is looking for a good quality stethoscope. It is affordable and has a variety of colors that even can match one's outfits subject to buying and possessing more than one in your selection of scopes. A special quality rubber binaural helps in the transmission of a high level of acoustic sensitivity.
Some attractive features of the Littmann Classic III Stethoscope are:
– It is suitable for adult and pediatric care.
– While defining durability, it comes with a 5-year warranty.
-The Littmann Classic III is easy to clean.
– It's a high-quality flexible binaural meant to last for generations.
– Naming a few attractive colors in which the Littmann Classic III is offered are Burgundy, Blue, Green, Black, Caribbean Blue, Lime, Chocolate, Plum, Lavender Pearl Pink, Raspberry, Ceil Blue, and Turquoise.
– The Chest Piece and the frame too can be in various finish options like Champagne, matt black, smoke, mirror, rainbow, etc.
Littmann Cardiology IV Stethoscope – This is the most trusted Cardiology stethoscope in the market. It is specifically designed for doctors who need high acoustic performance. Littmann Cardiology IV stethoscope comes with a dual-lumen headset design and the performance of this stethoscope is excellent as it can easily identify murmuring, sneezing, and pulmonary sound. Very fine material is used in the making process of this stethoscope which reduces the chances of repair and replacement. Even the diaphragms are very concrete that can be removed and placed back very easily.
Main features of the product:
– Better audibility, helps in better assessment of the patient cardiac rhythm.
– Designed for both adults and pediatrics.
-The product is highly durable and it comes with a 7-year warranty.
– You can easily detect the toughest issues with the help of this stethoscope.
– The product is available in various color options like Navy rainbow, Caribbean Blue, Burgundy, Plum, Raspberry, etc.
3M Littmann Master Cardiology- Littmann Brand is incomplete without this model as this provides outstanding acoustics. Particularly it is a cardiology stethoscope but it is very helpful for those who are looking for top-quality acoustics. It picks up the maximum sound because of its deeper bell. It comes with a double-lumen tube and this tube makes this stethoscope completely value for money. As you can listen to multiple sounds in each ear tube and ear tip.
Here are some features of the product:
– Like in the Littmann Classic III, the binaural of the stethoscope can easily retain its original shape even after folding it tightly in the pocket.
– Durability – It comes with 7 years of warranty.
– Headset can be adjusted very easily and ear tips are also very soft and comfortable.
-Available in multiple color options like black with a brass finish, navy blue, plum, burgundy, and special black edition.
– Suitable for adults and pediatric care.
3M Littmann CORE Stethoscope, Digital- The Core stethoscope is fully electronic and it comes with a feature of active noise cancellation. It connects to the EKO Software and has the ability to amplify sound 40 times. This is best for those who usually work in a noisy environment as there is a need for high accuracy required, and the Core Digital is of great help in the diagnosis of the heart and the lungs.
Some prominent features are:
-External Noise reduction- It eliminates up to 85% of noise and helps to concentrate better while listening to the heart or lung sounds.
– Amplification up to 40 times.
– Soft ear tips result in offering optimal comfort.
– Designed for both adult and pediatric
As a healthcare professional or a medical student, you need to look for a quality instrument. Even though various brands are available at much lower costs or fancier looks, but they fail to provide optimum levels of comfort and durability which a Littmann Stethoscope inherits.
The aforementioned models are readily available at the retail outlet of Skytech Medical and Surgical Devices and alternately through our website, www.surgicalshoppe.co.in.
Skytech Medical and its sister concern Continental Surgical Emporium continue to be the most preferred authorized distributor of Littmann stethoscopes both by the doctor community and the dealers now for nearly 30 years. And, the reason for this is, while serving, customer satisfaction continues to remain of utmost concern.
Connect with us through various mediums for any assistance you may require in sourcing a genuine Littmann Stethoscope, and please don't forget and hesitate to write to us and share your buying experience.
Your review may be of help to someone who is unable to decide….., which one!
We will soon be back with our next blog.
Till then Stay Connected!