3M Littmann Master Cardiology Stethoscope Plum 2167 (Copy)
₹30,700.00 Incl. GST (-41%)
Outstanding acoustics: The highest in Littmann mechanical stethoscopes.
Tunable diaphragm: Hear high or low frequency sounds by slightly adjusting pressure on the chestpiece.
Dual-lumen tubing: Two sound paths in one tube eliminates the rubbing noise of traditional double tubes.
Headset is easily adjusted for individual fit and comfort. Angled eartubes align with ear canals.
Includes Special Procedures Adaptor for pediatric or neonatal auscultation.
Seven-year warranty
₹30,700.00 Incl. GST (-41%)
Product Description
The 3M™ Littmann® Master Cardiology™ Stethoscope is characterized by the best acoustic response in the Littmann mechanical stethoscope line; with a tunable diaphragm, dual lumen tubing, and a precision, ergonomically designed, stainless steel chestpiece.
The 3M™ Littmann® Master Cardiology™ Stethoscope features tunable diaphragm technology—a 3M invention—that lets clinicians hear different frequency sounds by simply adjusting the pressure on the chestpiece. Unlike two-sided models, there's no need to turn over and reposition the chestpiece. Hold the chestpiece with light pressure to hear low frequency sounds; press a little more to hear higher frequency sounds. This time-saving feature allows the healthcare provider to focus on the patient, while the non-chill rim provides patient comfort.
Headset tension is easily adjusted for head size and comfort by squeezing together or pulling apart the eartubes. Snap-tight, soft-sealing eartips conform to individual ears for an excellent acoustic seal and comfortable fit. Eartips snap firmly onto the ends of the eartubes and, for safety, require a significant effort to remove.
Resilient next-generation tubing retains its shape and flexibility even after folding tightly into a pocket. It provides longer stethoscope life due to improved resistance to skin oils and alcohol, and is less likely to pick up stains. Next-generation tubing is not made with natural rubber latex, a benefit to sensitive medical professionals and their patients. And, to play its part in the protection of human health and the environment, the next-generation tubing does not contain phthalate plasticizers.
The Master Cardiology stethoscope is made in the USA for consistent quality. It comes complete with large and small soft-sealing eartips, large firm eartips, Special Procedures Adapter, and instructions.
Specification
Cardiology/High Performance

Chestpiece Weight (metric)

Diaphragm Diameter (metric)

Environmental claim being made

Environmental claim relates to

Anesthesiologist

, Cardiologist

, Emergency Physician

, EMT/EMS

, Family Practitioner

, Internist

, Medical Student

, Nurse

, Pediatrician

, Physician

, Respiratory Specialist

, Teacher/Professor/Instructor
Features
Outstanding acoustics: The highest in Littmann mechanical stethoscopes.
Tunable diaphragm: Hear high or low frequency sounds by slightly adjusting pressure on the chestpiece.
Dual-lumen tubing: Two sound paths in one tube eliminates the rubbing noise of traditional double tubes.
Headset is easily adjusted for individual fit and comfort. Angled eartubes align with ear canals.
Includes Special Procedures Adaptor for pediatric or neonatal auscultation.
Seven-year warranty
3M™ Littmann® Cardiology Stethoscopes are designed for those who desire consistent outstanding acoustic performance, especially in critical care and other challenging environments. They are made to help you listen for hard-to-hear sounds and are perfect for performing detailed auscultation and assessments on both adult and pediatric patients.
All Cardiology stethoscope chest pieces feature tunable technology that lets you switch you're listening to low- and high-frequency sounds without repositioning your chest piece, providing greater convenience. Non-chill bell sleeves bring greater comfort to your patients as well.
Angled ear tubes align anatomically with ear canals, and soft-sealing ear tips provide greater sound isolation and an excellent acoustic seal for ambient noise reduction.
3M Littman Stethoscopes is a subsidiary of 3M, a worldwide recognized science-based technology corporation. The firm provides industry-leading ideas, engineering, innovative materials, precision production, and an unrivaled degree of consistent quality. Littmann stethoscopes are made using sophisticated methods and quality standards to ensure consistent performance. Littmann stethoscope prices are quite reasonable and will deliver constant high-level performance. Littmann manufactures all varieties of stethoscopes, which may be found on Skytech Medical & Surgical Devices.
Buy 3M Littmann Stethoscopes on Skytech Medical & Surgical Devices for the best prices available online in India
Skytech Medical & Surgical Devices is an approved 3M Littmann partner in India. Because of its excellent acoustic sensitivity, tuneable diaphragms, snap-tight, soft-sealing ear tips, adjustable headset, next-generation tubing, precise chest parts, and lightweight, Pinard stethoscopes are favored by physicians and doctors all over the world.
Colors (black, burgundy, hunter green, navy blue, plum, grey, chocolate, red, rose pink, sand, dark olive green, Caribbean blue, raspberry, pine green, peach, orange, royal blue, lime green, lavender, turquoise, lemon-lime, emerald, ceil blue, and pearl pink) and chest-piece finishes (standard, black plated, rainbow, smoke finish, and brass finish) and chest-piece finishes (standard, black plated, rainbow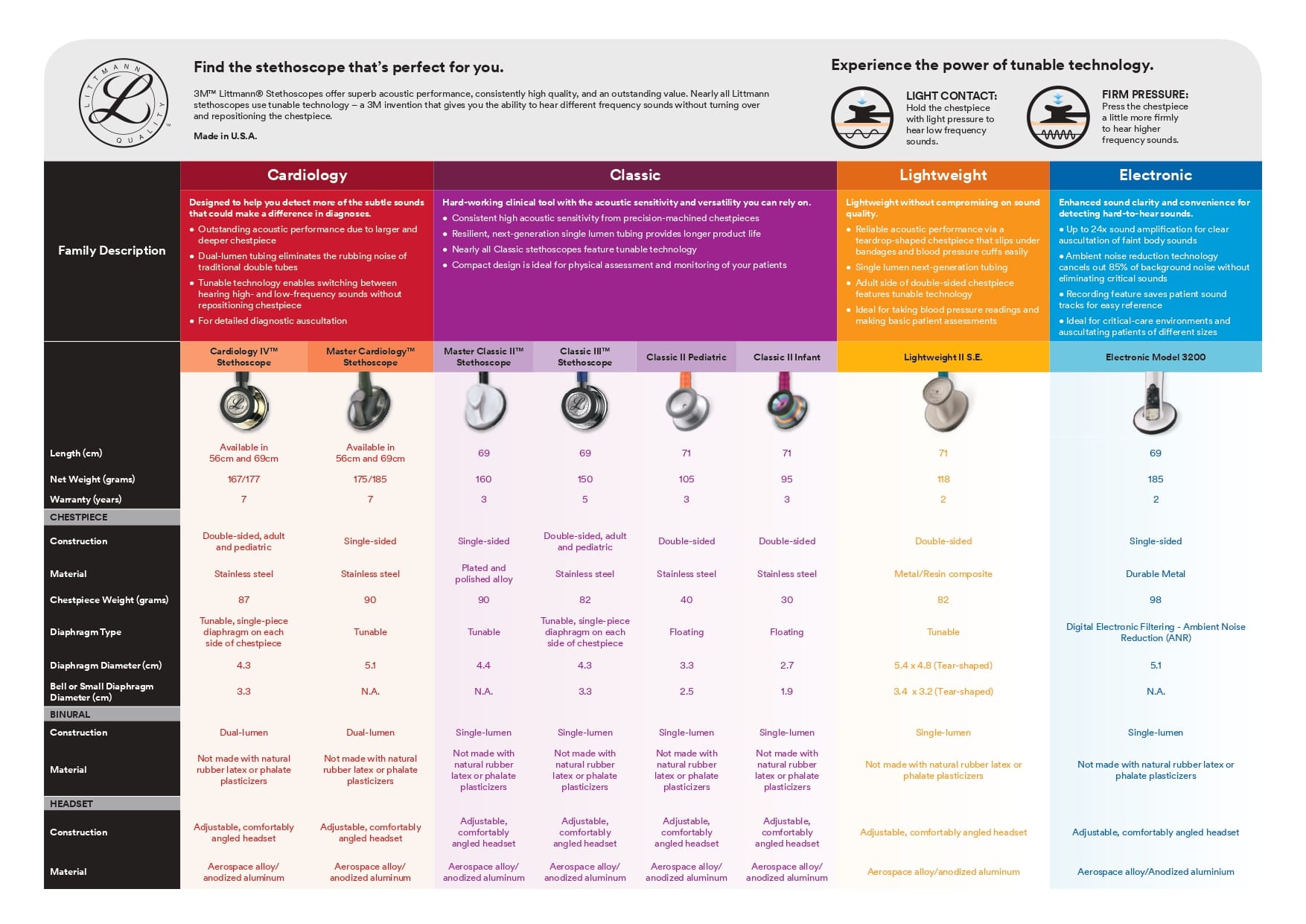 Cardiology stethoscopes, infant stethoscopes, pediatric stethoscopes, classic stethoscopes, Pinard stethoscopes, and electronic stethoscopes are among the stethoscopes offered on Skytech Medical & Surgical Devices from 3M Littmann. Due to the strong demand for this company's products, select 3M Littmann brands may be available for next-day delivery. All goods not eligible for next-day delivery are shipped within 48 hours of purchase confirmation.
Skytech Medical & Surgical Devices ships items to all parts of India. You may purchase items from this firm in both big and small amounts as a registered medical professional or health care facility.
Skytech Medical & Surgical Devices has a direct link with 3M Littmann Stethoscopes and so delivers the top quality items at the most affordable pricing accessible online in India. The price of a stethoscope in India is among the lowest. Customers may examine this company's full catalog with all product details on our website.
Pinard Stethoscopes are also available from various companies like Enbee, Niscomed, Rossmax, and Srishti on Skytech Medical & Surgical Devices. You no longer need to look for a stethoscope business near me.' Buy your stethoscopes from SurgicalShoppe.co.in and have them delivered anywhere in the nation.
Specification
Additional information
| | |
| --- | --- |
| Weight | .500 kg |
| Dimensions | 37.6 × 17.3 × 4.5 cm |
| Brand | 3M Littmann |
| MPN | 2167 |
| color | |